BONFIRE
Filmed performance
Cette action est répétée dans plusieurs villes : un groupe de quatre à dix personnes parcourent les rues et y ramassent tout ce qu'ils trouvent comme matériaux combustibles : morceaux de bois, de carton, du papier…
Ils effectuent ce travail à mains nues.  Ils transportent le résultat de leur récolte dans les bras ou ils la traînent derrière eux.  À la tombée du soir, ils arrivent dans un lieu où ils assemblent avec soin les matériaux qu'ils ont amenés pour faire le feu.
Ce feu n'est peut-être destiné qu'à réchauffer ceux qui l'ont allumé et peut-être aussi quelques passants.  Il est aussi un fanal, une lueur qui s'inscrit dans le paysage urbain comme une lumière parmi les autres lumières de la ville, parmi les nuages, la lune et les étoiles.
Le lieu dans lequel on fait le feu offre une perspective, une vue assez large sur les alentours.  Il est emblématique d'un certain état particulier de la ville dans laquelle on se trouve ou encore d'un état de « la Ville » générique et globale dans laquelle nous vivons tous.  Un lieu où l'on sent que quelque chose arrive.
This action is repeated in several cities: A group of people walk along the streets of the city. They collect any flammable material they can find: pieces of wood, paper, cardboard… They carry this harvest in their arms, or drag it along the sidewalks. At dusk, they come to place where they carefully assemble the stuff they collected and light the fire.
This fire is there just to warm those who lit it, or some passer by. It is a beacon, a flare in the urban landscape added to the lights of the city, the clouds, the moon and the stars.
The place of the fire is representative of the current state of the evolution of the city in which the performance takes place as well as of the "generic" city in which we all live. It is a place where balance gets modified, where one feels something new is coming about.
C. De Naeyer : Bonfire – Portraits de Villes, l'Art Même 36, 2007 (Fr)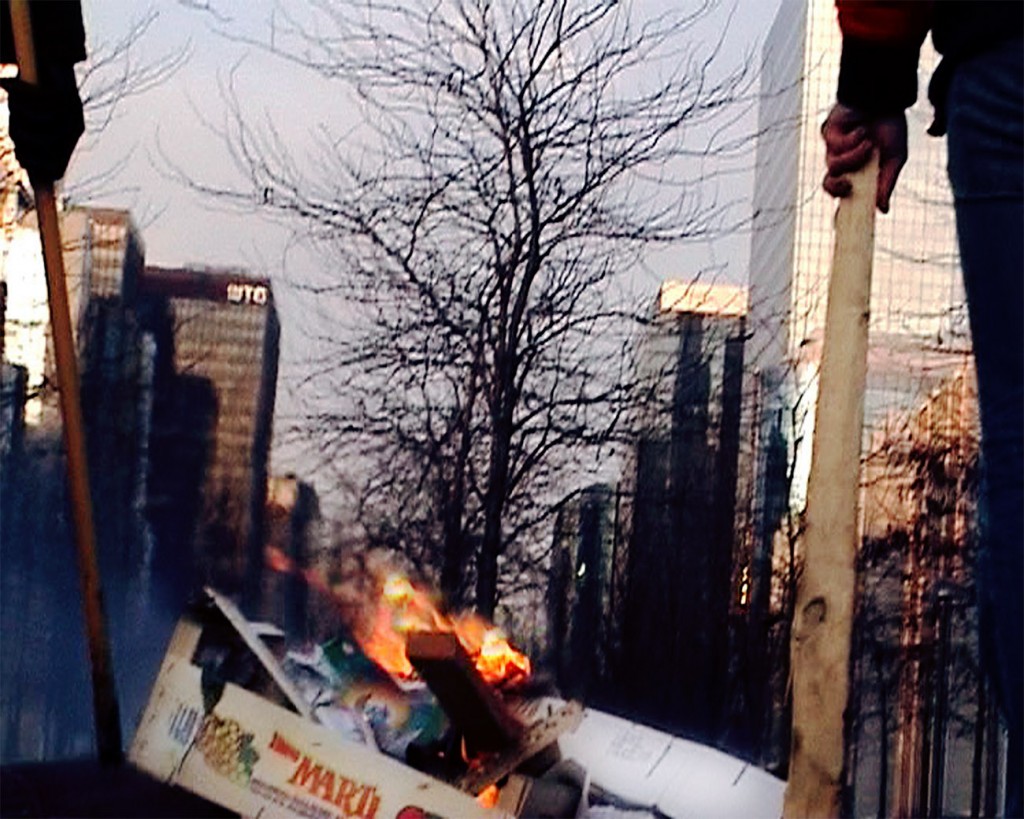 Bonfire Brussels (voir extrait)